2017-18 CCMS School Supply List, please click HERE
Open House/Registration date - August 3rd - 3:00 - 6:00

KERALOT Youth Services Center Advisory Council
Thursday, May 25, 2017 @ 11:30 at O'Charley's Hopkinsville, KY422420

Yearbooks are $35!
Personalization for Yearbooks was due by January 27th!
Remaining Yearbooks will be sold on a first come first serve basis upon delivery
2016-17 Bell Schedule
1st Block 8:20-9:14
2nd Block 9:18-10:11
3rd Block 10:15-11:08
4th Block 11:12-12:39
1st Lunch 11:15-11:40
2nd Lunch 11:43-12:08
3rd Lunch 12:11-12:36
5th Block 12:43-1:35
6th Block 1:39-2:31
7th Block 2:36-3:25
Absences - When a student has been absent from school for any reason, he/she MUST bring a note signed by a parent to the front office on the day he/she returns. The note should be dated and should state the reason for the absence. In case of a medical appt., the student should request a written statement from the doctor/dentist and bring that statement to school. Any portion of the day missed requires a note from home or doctor. A note MUST be turned in to the office within 5 days from the absence.
_____________________________________________________
School Hours 8:20 a.m. - 3:25 p.m.

A student is tardy if he/she is not in 1st period by 8:20am. Once students arrive on the CCMS campus, they are not to leave school grounds until dismissal. If a student arrives before 8:00am, he/she is to remain in the front of the building on the sidewalk, however it should be noted that students will not be supervised and CCMS staff is not responsible of the school until 8:00am.
Students who ride the bus or are picked up by car will be dismissed by 3:25pm. Parents are not allowed to load and unload students behind the school where busses load and unload. Please use the Glass Avenue entrance in front of the school to pick-up/drop off all students at all times. Every student should be picked up or be off campus by 3:50 pm. The only exceptions are students who are in extra-curricular programs. These students should be picked up or off the campus within 15 minutes after the activity has concluded.
________________________________________________________________________________
THE COLONEL WAY
Respect Responsibility Effort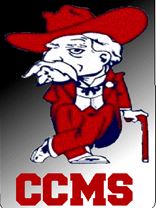 PROFICIENT SCHOOL