Any parent or guardian of a current 8th grader that will be attending CCHS next year may nominate someone for the CCHS SBDM council. The voting link is on the Christian County High School webpage. You may also go to CCHS and nominate in person. If you have any questions contact Karen Greene at 270-887-7050. The deadline is Friday, April 23rd.
http://christiancountyhigh.christian.kyschools.us/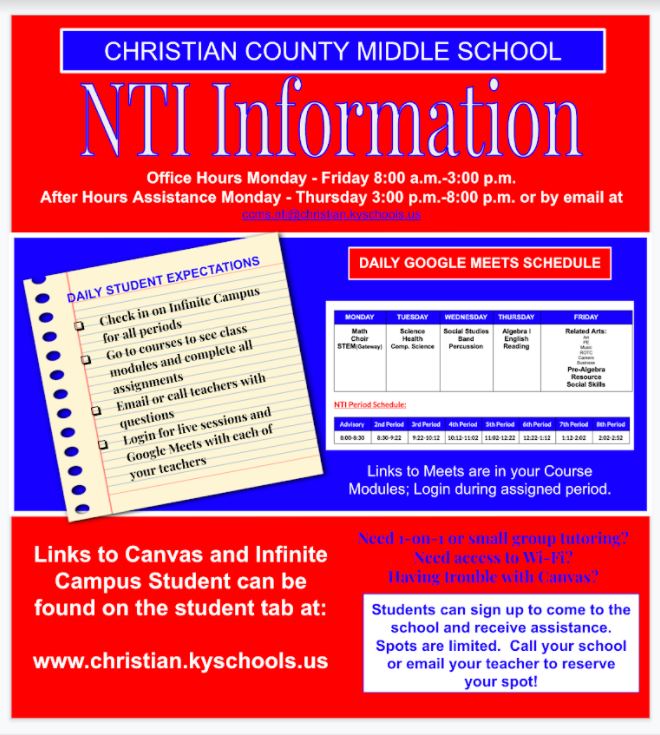 ========================================================================
========================================================================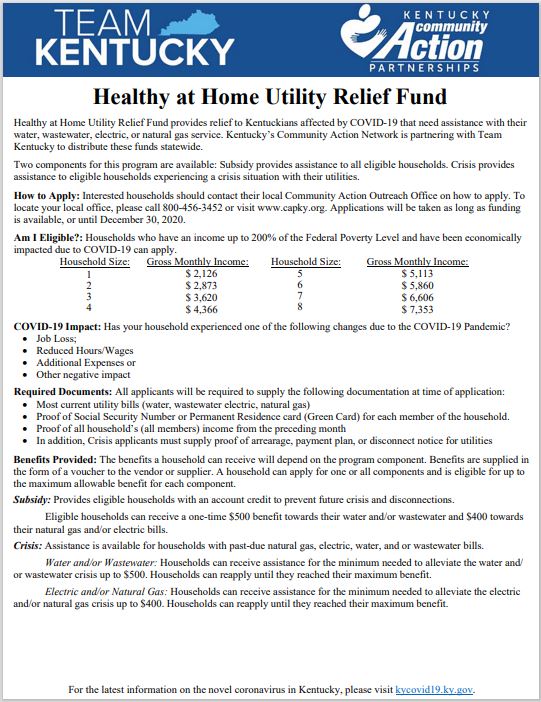 CCMS would like parent input on its Title 1 Engagement Policy and Home-School Compact. When you have time, please read the documents and respond to the questions in this Google Form. We value input from our parents and families. Thank you for your time.
The CCPS School Board voted to begin Hybrid Instruction for middle and high school students, with in person classes for students on Tuesday, September 8, 2020. With the beginning of school, there are some changes you need to be aware of. This information can also be found on our school webpage and Remind.
Blue team A-I and Red Team J-Z. Blue team meets in-person the first two instructional days of the week AND Red Team meets in-person the second two instructional days of the week.

Car Riders unload at 7:50AM AND Bus Riders unload at 7:55AM. A student is tardy at 8:15.

With new Healthy at School Guidelines, visitors are not permitted in the building past the front office. CCMS will have staff posted in hallways to assist students to each class.

Masks are required on busses, in classes, hallways-BREAKS THROUGHOUT THE DAY WILL BE SCHEDULED

Book bags are encouraged this year since supplies will not be shared and lockers will not be used.

Reusable Water bottles labeled with their name. Water Fountains will not be used this year.

Parent Assurance letters and Home Language Surveys will be going home on Tuesday (Blue Group) and Thursday (Red Group). It needs to be signed and returned. We must have your help to make sure your student is healthy before coming to school. Please return the Parent Assurance letter signed to the advisory teacher.
If you are concerned about your student returning to in person classes, the CCPS Virtual Learning Academy is open for enrollment through 5:00 pm on Monday, September 7, 2020. The enrollment link is at the top of the CCPS web page.
Please call the school if you have any questions, we are here to support you and look forward to seeing you soon!
Attention CCMS Families! We are excited to present our new Parent/Student Information Platform! Please start with the message from Principal Crider and then visit any blue button for more detailed information! Click the picture below!

=============================================
________________________________________________________________________________________________________
Parents,
If your student is having academic, attendance, or behavioral struggles at school, please fill out the form below to request services through PBIS
Parent/ Student Request Assistance Form
___________________________________________________________________________________________________________
=======================================================================================
CCMS Club Information
Kentucky Youth Assembly (KYA)
The Kentucky Youth Assembly (KYA) is a 3-day experiential learning program in which students serve as part of a model state government. KYA offers students the opportunity to learn about a wide variety of issues, develop critical thinking skills, and articulate their beliefs while engaging constructively with their peers from around the Commonwealth.
Students will travel to Louisville in December to present their bills, run for office and problem solve with students around the state. They also will travel to Frankfort to tour the capitol building and learn about Kentucky government. The expense of the trip runs approximately around $325. per student,, which covers bus transportations 2 nights of lodging and some meals. Students who join CCMS KYA must attend weekly meetings, be willing to participate in events and preparation, and have acceptable school behavior in order to attend the 3 day KYA convention in December. Please contact Mr. Standiford with any questions at charles.standiford@christian.kyschools.us.
Academic Team/Governor's Cup
Governor's Cup has become the state's premier academic event, involving over 20,000 students, nearly 1200 schools, and thousands of coaches, administrators, parents and community leaders who see the rewards gained from encouraging academic performance through properly structured and professionally administered academic competition.
Governor's Cup consists of eight events:
Students must attend practice before and/or after school. Some written assessments take place on school nights and Quick Recall and other assessments take place on Saturdays at host schools in surrounding counties. Parents are responsible for getting their child to the events.
Junior National BETA Club
Students will be invited to join BETA based on teacher nominations. Meetings are held in the mornings before school and attendance is mandatory. Students will also be required to earn service points, maintain a high GPA and be active participants in the club. The BETA convention will be held in Lexington from January 16 - January 18 and is always a memorable event. Please contact Mrs. Younger with any questions at terrie.younger@christian.kyschools.us.
NATIONAL BETA CLUB MISSION STATEMENT:
To promote the ideals of academic achievement, character, service and leadership among elementary and secondary school students.
Achievement--Recognizing and honoring high academic achievement
Character-- Preparing young people for life and empowering them to be successful
Leadership--Developing the leaders of tomorrow
Service--Demonstrating our motto: Let us Lead by Serving Others
Washington, DC
Last year, CCMS informed parents of 7th grade students (current 8th graders) about the opportunity to take a group trip to Washington, DC during Spring Break. The school needs at least 20 students, to receive the discounted rate and final payments are due in December 2018. Right now, we do not have enough 8th grade students interested in the trip to get the discounted rate. Parents of current 7th grade students, you will receive information later in this school year so your child is given the opportunity to take the DC trip as an 8th grader. If you have questions, please contact Mr. Lynn at jonathon.lynn@christian.kyschools.us.
Absences - When a student has been absent from school for any reason, he/she MUST bring a note signed by a parent to the front office on the day he/she returns. The note should be dated and should state the reason for the absence. In case of a medical appt., the student should request a written statement from the doctor/dentist and bring that statement to school. Any portion of the day missed requires a note from home or doctor. A note MUST be turned in to the office within 5 days from the absence.
Christian County Middle School

Bell Schedule




1st Period Advisory




8:15 - 8:30




15 Minutes




2nd Period




8:34 - 9:24




50 Minutes




3rd Period




9:28 - 10:18




50 Minutes




4th Period




10:22 - 11:12




50 Minutes




5th Period




11:16 - 12:36




Lunch 1 (11:17-11:42)

Lunch 2 (11:43 - 12:08)

Lunch 3 (12:09 - 12:34)




52 Minutes




25 Minutes

25 Minutes

25 Minutes




6th Period




12:40 - 1:30




50 Minutes




7th Period




1:34 - 2:25




51 Minutes




8th Period




2:29 - 3:20




51 Minutes
---
School Hours 8:15 a.m. - 3:20 p.m.

A student is tardy if he/she is not in 1st period by 8:15am. Once students arrive on the CCMS campus, they are not to leave school grounds until dismissal. If a student arrives before 8:00am, he/she is to remain in the front of the building on the sidewalk, however it should be noted that students will not be supervised and CCMS staff is not responsible of the school until 8:00am.
Students who ride the bus or are picked up by car will be dismissed by 3:20pm. Parents are not allowed to load and unload students behind the school where busses load and unload. Please use the Glass Avenue entrance in front of the school to pick-up/drop off all students at all times. Every student should be picked up or be off campus by 3:50 pm. The only exceptions are students who are in extra-curricular programs. These students should be picked up or off the campus within 15 minutes after the activity has concluded.
---
THE COLONEL WAY
Respect Responsibility Effort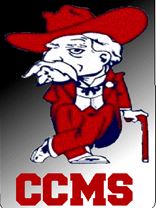 PROFICIENT SCHOOL

Challenge House Contacts
Michelle Wilson, Operations Coordinator: (270) 885-8887
Wally Bryan, Board Member/Outreach: (270) 889-3395
Mary Bryan, Volunteer (270) 484-4220
Challenge House 1
1001 Central Ave.
Greg & Ashley Boyd, Ambassadors
(CCMS's Landon Boyd's family)
Challenge House 2
311 Bryan Street
Tiara Smith, Ambassador
Challenge House 3
123 Fowler St.
Brad and Lori Kirkman, Ambassadors
Challenge House 4
517 N. Elm St.
Mike and Gina Condella, Ambassadors
Challenge House 5
2130 Crockett St.
Joyce Barrier, Ambassador
Challenge House 7
1605 Phelps Ave.
Jeff Littlefield, Ambassador