Girls Night Out
December 6, 2018 from 5-7pm.
CCMS Auditorium.
Each student can choose 1 female adult to bring. It can be your mother, a female guardian or female adult friend!! Come join us for a night of laughter with Lisa Smartt. She is hilarious! FREE Dinner Chick-fil-a. Great Door prizes. Please RSVP to Mrs. Karent Kennedy
Big Smiles Dental Program will be at CCMS November 19th and 20th. Mrs. Kennedy, KEARLOT Youth Service Center Director sent permission forms home with your child Wednesday, October 23, 2018. If you would like for your child to participate in the program, please fill out the form and send it back as soon as possible. We have a New Online Sign Up Option! You can sign up your child online. You simply visit www.MySchoolDentist.com and complete the form to allow your child to be seen by the in-school dentist.
Dental disease results in 51 million lost school hours every year! Help your students get the dental care they deserve to keep them healthy and in the classroom.
===================================================================
Dear Parents,
Christian County Schools is on a continuous journey to make our schools the best places for students to learn, staff to work, and parents to send their children for a good education. In this effort, we appreciate your support. It is important to gather feedback from you to celebrate successes and identify areas for growth. Please take a few minutes and complete this Parent Satisfaction Survey to help provide this feedback.
Once the survey is complete, the results will be analyzed by an outside organization. The data from the survey will be sent to each school and the Superintendent. Then, the results of the survey will be shared with parents and the community.
The survey can be accessed online at: CCPS Parent Satisfaction Survey
The survey will be open from 10/22-11/14
Thank you for interest in and support of your child's education with us. Please contact me if you have any questions concerning the survey.
Kevin Crider
HALLOWEEN DANCE
Friday October 26th
5-7pm
Wear your costume!!
Please contact Mrs. Younger for more information!!
CCMS Club Information
Kentucky Youth Assembly (KYA)
The Kentucky Youth Assembly (KYA) is a 3-day experiential learning program in which students serve as part of a model state government. KYA offers students the opportunity to learn about a wide variety of issues, develop critical thinking skills, and articulate their beliefs while engaging constructively with their peers from around the Commonwealth.
Students will travel to Louisville in December to present their bills, run for office and problem solve with students around the state. They also will travel to Frankfort to tour the capitol building and learn about Kentucky government. The expense of the trip runs approximately around $325. per student,, which covers bus transportations 2 nights of lodging and some meals. Students who join CCMS KYA must attend weekly meetings, be willing to participate in events and preparation, and have acceptable school behavior in order to attend the 3 day KYA convention in December. Please contact Mr. Standiford with any questions at charles.standiford@christian.kyschools.us.
Academic Team/Governor's Cup
Governor's Cup has become the state's premier academic event, involving over 20,000 students, nearly 1200 schools, and thousands of coaches, administrators, parents and community leaders who see the rewards gained from encouraging academic performance through properly structured and professionally administered academic competition.
Governor's Cup consists of eight events:
Students must attend practice before and/or after school. Some written assessments take place on school nights and Quick Recall and other assessments take place on Saturdays at host schools in surrounding counties. Parents are responsible for getting their child to the events.
Junior National BETA Club
Students will be invited to join BETA based on teacher nominations. Meetings are held in the mornings before school and attendance is mandatory. Students will also be required to earn service points, maintain a high GPA and be active participants in the club. The BETA convention will be held in Lexington from January 31- February 2 and is always a memorable event. Please contact Mrs. Younger with any questions at terrie.younger@christian.kyschools.us.
NATIONAL BETA CLUB MISSION STATEMENT:
To promote the ideals of academic achievement, character, service and leadership among elementary and secondary school students.
Achievement--Recognizing and honoring high academic achievement
Character-- Preparing young people for life and empowering them to be successful
Leadership--Developing the leaders of tomorrow
Service--Demonstrating our motto: Let us Lead by Serving Others
Washington, DC
Last year, CCMS informed parents of 7th grade students (current 8th graders) about the opportunity to take a group trip to Washington, DC during Spring Break. The school needs at least 20 students, to receive the discounted rate and final payments are due in December 2018. Right now, we do not have enough 8th grade students interested in the trip to get the discounted rate. Parents of current 7th grade students, you will receive information later in this school year so your child is given the opportunity to take the DC trip as an 8th grader. If you have questions, please contact Mr. Lynn at jonathon.lynn@christian.kyschools.us.
Link to: Student Agenda
Absences - When a student has been absent from school for any reason, he/she MUST bring a note signed by a parent to the front office on the day he/she returns. The note should be dated and should state the reason for the absence. In case of a medical appt., the student should request a written statement from the doctor/dentist and bring that statement to school. Any portion of the day missed requires a note from home or doctor. A note MUST be turned in to the office within 5 days from the absence.
Christian County Middle School

Bell Schedule




1st Period Advisory




8:15 - 8:30




15 Minutes




2nd Period




8:34 - 9:24




50 Minutes




3rd Period




9:28 - 10:18




50 Minutes




4th Period




10:22 - 11:12




50 Minutes




5th Period




11:16 - 12:36




Lunch 1 (11:17-11:42)

Lunch 2 (11:43 - 12:08)

Lunch 3 (12:09 - 12:34)




52 Minutes




25 Minutes

25 Minutes

25 Minutes




6th Period




12:40 - 1:30




50 Minutes




7th Period




1:34 - 2:25




51 Minutes




8th Period




2:29 - 3:20




51 Minutes
---
School Hours 8:15 a.m. - 3:20 p.m.

A student is tardy if he/she is not in 1st period by 8:15am. Once students arrive on the CCMS campus, they are not to leave school grounds until dismissal. If a student arrives before 8:00am, he/she is to remain in the front of the building on the sidewalk, however it should be noted that students will not be supervised and CCMS staff is not responsible of the school until 8:00am.
Students who ride the bus or are picked up by car will be dismissed by 3:20pm. Parents are not allowed to load and unload students behind the school where busses load and unload. Please use the Glass Avenue entrance in front of the school to pick-up/drop off all students at all times. Every student should be picked up or be off campus by 3:50 pm. The only exceptions are students who are in extra-curricular programs. These students should be picked up or off the campus within 15 minutes after the activity has concluded.
---
THE COLONEL WAY
Respect Responsibility Effort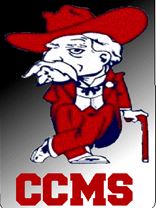 PROFICIENT SCHOOL