Registration
July 23rd - 25th from 8 am - 3 pm
July 26th from 10 am - 6 pm
-----------------------------------------------------------------
CCMS Jump Start
August 2nd from 8 - 12
Lunch will be served, contact CCMS or send an email to
Mari.Owens@christian.kyschools.us for more information
Form from link must be completed by July 23rd if you need bus transportation
------------------------------------------------------------------
Open house
Aug 6th from 2 - 6
-----------------------------------------------------------------
First Day of School August 9th
ONLINE REGISTRATION IS NOW OPEN!!
If you do not have a parent portal account, please contact guidance at
270 887-7072 or marcella.hale@christian.kyschools.us

Yearbooks are $40!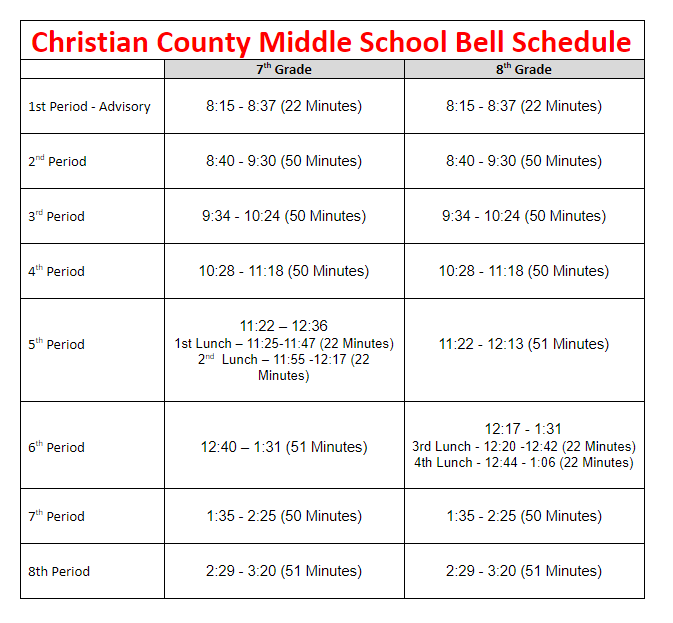 Absences - When a student has been absent from school for any reason, he/she MUST bring a note signed by a parent to the front office on the day he/she returns. The note should be dated and should state the reason for the absence. In case of a medical appt., the student should request a written statement from the doctor/dentist and bring that statement to school. Any portion of the day missed requires a note from home or doctor. A note MUST be turned in to the office within 5 days from the absence.
---
School Hours 8:15 a.m. - 3:20 p.m.

A student is tardy if he/she is not in 1st period by 8:15am. Once students arrive on the CCMS campus, they are not to leave school grounds until dismissal. If a student arrives before 8:00am, he/she is to remain in the front of the building on the sidewalk, however it should be noted that students will not be supervised and CCMS staff is not responsible of the school until 8:00am.
Students who ride the bus or are picked up by car will be dismissed by 3:20pm. Parents are not allowed to load and unload students behind the school where busses load and unload. Please use the Glass Avenue entrance in front of the school to pick-up/drop off all students at all times. Every student should be picked up or be off campus by 3:50 pm. The only exceptions are students who are in extra-curricular programs. These students should be picked up or off the campus within 15 minutes after the activity has concluded.
---
THE COLONEL WAY
Respect Responsibility Effort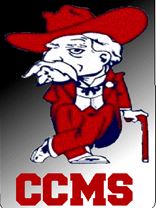 PROFICIENT SCHOOL