CCMS would like parent input on its Title 1 Engagement Policy and Home-School Compact. When you have time, please read the documents and respond to the questions in this Google Form. We value input from our parents and families. Thank you for your time.
________________________________________________________________________________________________________
Parents,
If your student is having academic, attendance, or behavioral struggles at school, please fill out the form below to request services through PBIS
Parent/ Student Request Assistance Form
___________________________________________________________________________________________________________
Absences - When a student has been absent from school for any reason, he/she MUST bring a note signed by a parent to the front office on the day he/she returns. The note should be dated and should state the reason for the absence. In case of a medical appt., the student should request a written statement from the doctor/dentist and bring that statement to school. Any portion of the day missed requires a note from home or doctor. A note MUST be turned in to the office within 5 days from the absence.
School Hours 8:15 a.m. - 3:20 p.m.

A student is tardy if he/she is not in 1st period by 8:15am. Once students arrive on the CCMS campus, they are not to leave school grounds until dismissal. If a student arrives before 8:00am, he/she is to remain in the front of the building on the sidewalk, however it should be noted that students will not be supervised and CCMS staff is not responsible of the school until 8:00am.
Students who ride the bus or are picked up by car will be dismissed by 3:20pm. Parents are not allowed to load and unload students behind the school where busses load and unload. Please use the Glass Avenue entrance in front of the school to pick-up/drop off all students at all times. Every student should be picked up or be off campus by 3:50 pm. The only exceptions are students who are in extra-curricular programs. These students should be picked up or off the campus within 15 minutes after the activity has concluded.
---
THE COLONEL WAY
Respect Responsibility Effort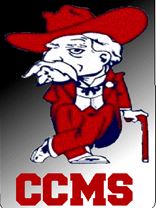 PROFICIENT SCHOOL

A United States Department of Education regulation published on May 19, 2020 defines sexual harassment for purposes of Title IX (sometimes referred to in policy and procedures as "Title IX Sexual Harassment").